Brighton Aldridge Community Academy (BACA) is a secondary school based in Falmer, Brighton. Since May 2018, we have been managing their facilities with our fully managed package. Whilst enquiries, bookings and payments are managed by our staff, BACA's on-site lettings team use Bookteq to view that evening's bookings, availability and booking notes. The software is supplemented by a listing on the Playfinder marketplace where new users are able to find the venue's facilities.
Before Bookteq, BACA managed their lettings in-house, handling the whole process from enquiries and reservations to bookings, invoicing, and payments. They wanted a solution where their lettings team managed access to the facilities, but where Bookteq managed contact with the customers via email or phone calls. The results speak for themselves as Aaron Barnard, Director of Finance & Operations (South East) at Aldridge Education explained; "Having Playfinder fully manage all of our facilities, from the start of the booking process to payment management, has made the user experience of our customers more seamless."
The Lettings Manager, Connor Daly was also pleased with the upgrade in software; "The calendar view is definitely much clearer and better looking than what our previous software provided!"
Bookteq took on the full venue management for BACA across all of their spaces and facilities. As well as the most popular facilities like their all-weather 3G football pitch (49% of all bookings) and renovated sports hall (31% of all bookings), Bookteq also managed facilities with lower utilisation such as classrooms (12% of all bookings) and studios (1% of all bookings).
Bookteq filled in as the perfect school lettings solution for BACA. Aaron Barnard added: "The team at Playfinder manage not only the sports facilities at the school, but also the spaces for hire such as classrooms, studios, function rooms and the sports hall for events to name a few."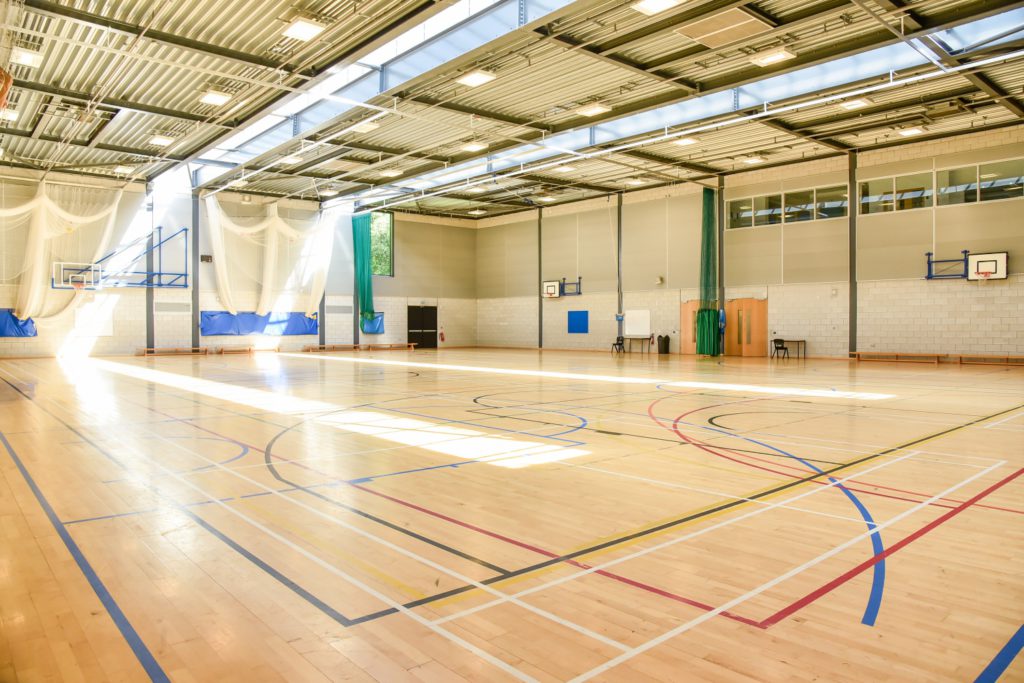 Increasing the utilisation rate of spaces and facilities
Not only did the booking process improve from start to finish, but BACA saw an increase in utilisation across their facilities from 2018 to 2019. The overall utilisation rate increased by 36% with the largest increases at off-peak times (52%). There were also significant increases at the more popular peak times (16%).
The increased utilisation wasn't limited to their sports hall and 3G pitch as the classroom utilisation also increased by 39%, helping generate more annual revenue.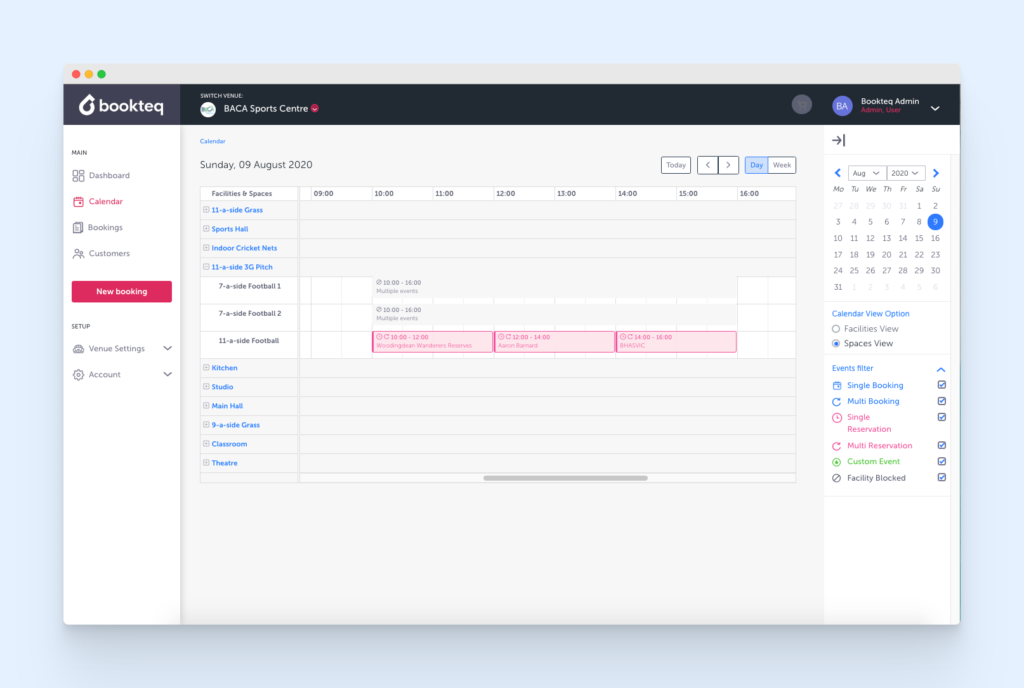 Payments, invoicing and debtors
As Aaron Barnard acknowledged, the payment management has been a great benefit to the school; "Playfinder carrying out payment management and debtor chasing has been a particular benefit since we have been with them."
Since Bookteq managed the payments, invoicing and chasing processes, freeing up time for the lettings team on-site, the debtor list has reduced from over 24% of annual revenue to just 0.002%.
Whilst many regulars settle their invoices via bank transfer (78%), Bookteq has brought a faster payment method online. 22% have now switched to making payments online for one-off and block bookings alike.
Booking behaviour and habits
Whilst 88% of BACA's customers are regular block booking customers, Bookteq opened up the facilities to a new market by bringing bookings online on the Playfinder marketplace and encouraging re-booking habits. As a result, 30% of customers have booked more than 10 times in the last two years.
Search engine presence also improved for the centre through the Playfinder marketplace. BACA ranks #1 and #2 on Google for 'football pitches in Brighton' and #2 for 'facility hire in Brighton'.
At the popular Brighton location, 45% of bookings take place during peak hours, 42% during mid-peak and the remaining 12% at off-peak times.
The breakdown of facility usage is:
3G pitch – 49%
Sports hall – 31%
Classrooms – 12%
Grass pitches – 4%
Main hall – 2%
Studios – 1%
MUGA – 1%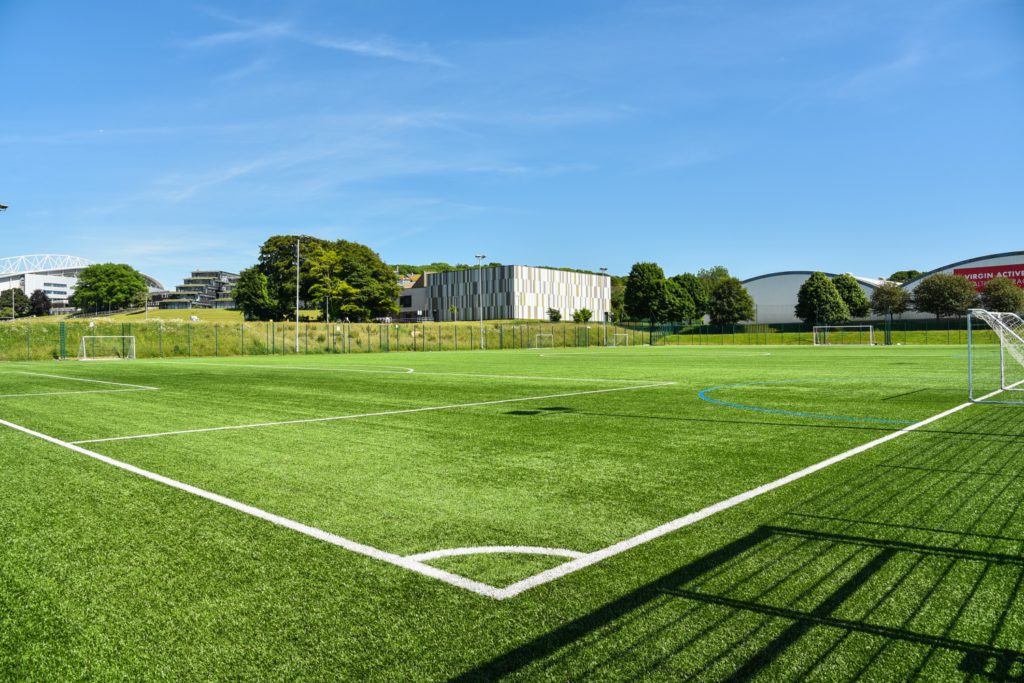 The results
Overall, the fully managed solution and introduction of the Bookteq software, coupled with the integration into the Playfinder marketplace has seen a significant number of positive results since the partnership began. Not only improving the working lives of the letting staff, but also making booking the school's facilities more accessible.
Increased utilisation by 36%
Reduced debtor list by 99%
Improved SEO presence with #1 and #2 search results for key terms
22% of payments made online