Awesome CIC operate all-weather 5-a-side football pitches for their local community in partnership with Islington Council. They introduced Lockteq Smartlocks to two of their sites in May 2021.
Awesome CIC were early adopters of the Bookteq system, having used the Playfinder marketplace to advertise their facilities since 2015. Playfinder Fully Manages two of their sites, meaning that our team run day-to-day operations while their staff can focus elsewhere. In May 2021, they installed Lockteq Smartlocks, operated by Bookteq, to streamline the running of their pitches.
The two sites Bookteq manage for Awesome CIC are:
The Problem
Playfinder and Awesome CIC have forged a strong partnership, built over many years. In putting their trust in our team and tech to manage their sites and bring in much-needed revenue, they have reaped the rewards. However, like many in the industry, they've strongly felt the impact of the covid pandemic.
Following a 3-month long lockdown at the start of 2021, many facility operators have struggled to keep afloat. It's been a tough period for all operators, but especially small community-run pitches like Awesome's. As a result, they needed a quick and secure way of reducing their operating costs and we helped them find a solution: Lockteq.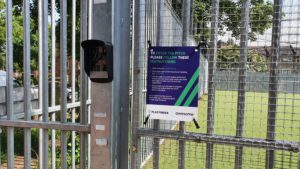 How does Lockteq work?
In short, Lockteq allows easy and contact-free access to facilities for sports players. Once a gate and a Smartlock are installed at a site, customers can let themselves in using a unique code.
The customer journey plays out as follows:
A customer makes a booking through a calendar widget, the Playfinder website or app, or by venue staff placing a booking into the backend of the Bookteq system
The customer receives a booking confirmation email along with a unique entry code.
The customer arrives at the venue at the time of their booking, enters the code into the Smartlock keypad at the gate and is granted access to the facility.
How has Lockteq helped Awesome CIC?
Before installing the Smartlocks, both Awesome venues had a local community member/employee onsite to oversee pitch usage. Now, as well as simplifying the booking process for their customers, Lockteq has benefitted Awesome CIC in many ways.
Reducing Operational Costs
First and foremost, the locks have really reduced Awesome's operational costs. By not having to pay staff to be present at every booking time, they have seen a 30% increase in their operating margin. As a result, they've been able to save and reinvest their income elsewhere.
In addition, they made back the funds spent to install Lockteq in just 3 months, giving a quick return on investment and allowing them to reinvest more capital into the operation of the sites under their control.
Better customer experience and increased bookings
An added benefit of the locks is that Awesome CIC can add more times for players to book online as they're no longer restricted by staff availability. They can also ensure fewer cancellations due to staff shortage or illness.
As some of the players using the pitches have said:
Worked perfectly! Chris J.

We played there last Thursday. Had no issues with the lock and worked as it should! Shanil L.

The smart locks feature was easy to use and worked perfectly! Hugo C.
Covid-secure
Removing the need for staff to grant access to their pitches makes it even easier to adhere to covid protocols. While many restrictions have now been lifted, the locks ensure Awesome are ready for any changes in guidance. They can also give their staff and players peace of mind with contactless bookings.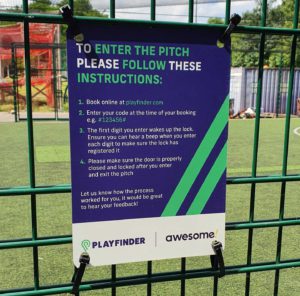 Lockteq: The Verdict
Lockteq has transformed how we manage the football pitches. We no longer have complex arrangements for staff to open and close the facilities. This has reduced the stress of ensuring a staff member is available for all bookings and how we might cover staff illness at short notice.

Guy Lawrence, Managing Director at Awesome CIC
Learn more about how we can help you manage your sports facilities with Bookteq. Start a conversation with us via our live chat to get started or visit our Lockteq page for more information.