On 24th June 2019, Waltham Forest Council, based in North East London, moved 14 venues to Bookteq's Fully Managed package. The Fully Managed package puts Bookteq staff in charge of managing booking, customers, and payments, while allowing staff at Waltham Forest Council the ability to log in and view upcoming bookings. The council has seen their staff admin time reduced while utilisation increases at their venues. Bookteq's integration with Playfinder also gives Waltham Forest the chance to promote their facilities to thousands of new customers.
Before Bookteq, Waltham Forest managed their lettings in-house, manually managing bookings and payments. The council were looking to reduce admin time by keeping customer handling to a minimum, which is where Bookteq came in. Joyce Guthrie, Head of Sport & Leisure at Waltham Forest Council said "Working with Playfinder has improved our enquiry and booking management and freed up time for our staff elsewhere."
The 14 venues Bookteq now fully manage offer a range of different sports facilities. The booking breakdown by sport between June 2019 – March 2020 was as follows:
7-a-side football 38%
Space hire 23% 
11-a-side football 22% 
9-a-side football 5%
Boxing gym 5% 
Cricket 5% 
5-a-side football 2%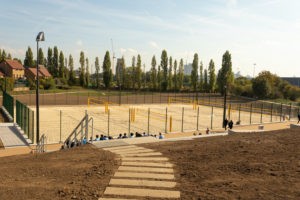 Increasing utilisation of spaces and facilities
Despite COVID-19 hampering a longer-term study on utilisation uptake, the council saw good results within a limited time-frame. From September 2019 to February 2020 utilisation increased by 2%, resulting in £3,025 extra revenue.
Lee Benjamin, Chairman of Lymore Gardens FC comments on the partnership "As the founder of chairman of a grassroots club, Playfinder has made my life easier to book and hire local pitches and spaces. I have found they are very reliable and efficient, and the booking system is simple and easy to use." 
Payments, invoicing and debtors
Since Bookteq took over the payment chasing process, Waltham Forest Council have managed to decrease their debtor list by 79% from £86,896 to £18,017.
Many bookers still book via bank transfer (76%), but since the switch to online bookings with Bookteq, 24% of users changed habits to book online.
Booking behaviour and habits
One reason for moving to online bookings is to improve accessibility and make it easier for customers to book. Since Waltham Forest Council adopted the Bookteq Fully Managed package 69% of users have booked more than once.
The package also helped boost the visibility of the 14 venues by having highly ranked pages for them on Google through the Playfinder marketplace. The breakdown as follows:
8 venues ranked #1 on Google
12 venues ranked within the top #3 on Google
All 14 venues ranking within the top #10 on Google
For those venues that displayed Playfinder banners, they saw an increase of +67% in pageviews.
Off-peak Vs peak 
Mid-Peak (Fri after 18:00 and weekends) – 42%
Peak (Mon-Thu after 18:00) – 37%
Off-peak (Mon-Fri before 18:00) – 21%
The results
Debtor list reduced by 79%
£3,025 extra revenue from Sept 2019 – Feb 2020
85% of venues ranking within the top #3 on Google
Get in touch with us to learn more about how we help councils and parks manage their facilities and Bookteq's Fully Managed package.