Sustainable Investments in Sports Facilities: Balancing Infrastructure, People, and Technology
The curtain falls on an extraordinary couple of days at Elevate 2023, leaving us exhilarated and brimming with inspiration. In this article, we dive deep into the captivating "Investment for access – how infrastructure investments are expanding sport accessibility – and how to sustain it?" panel discussion, unveiling the invaluable insights it brought to the forefront. Led by the chair Abigail Mesnard from Playfinder, powering Bookteq, the panel featured esteemed guests including Simon Hughes from England Rugby, Jason Michalski of Upshot, Jon Hymus representing Innerva, and Jamie Foale from Playfinder, powering Bookteq. Together, they delved into the realm of sports facility investment, accessibility, measuring impact, and the pivotal role of data.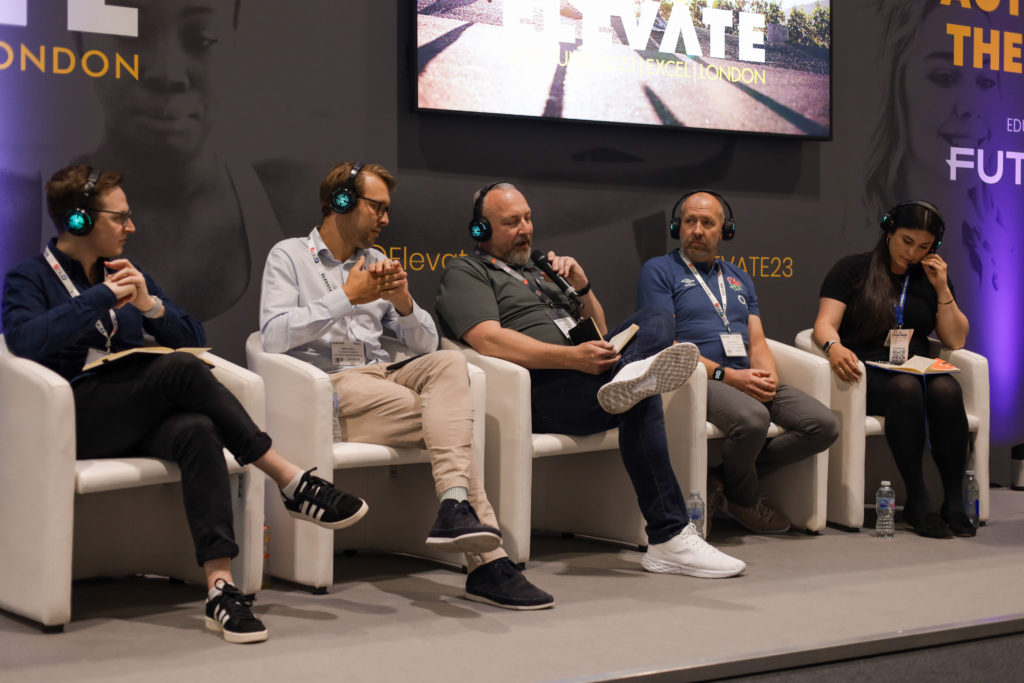 Measuring Impact and Monitoring Participation Programs
The discussion kicked off with Jason Michalski shedding light on the evolving landscape of data collection for monitoring and evaluation (M&E) purposes. Notably, there has been a significant surge in both the quantity and types of data collected in recent years. Beyond tracking facility usage, this expanded data now encompasses vital demographic information such as gender, age, postcode, and levels of deprivation. By embracing this comprehensive data collection approach, a deeper understanding of the audience is achieved, ultimately informing the planning process for future sport facility investments. However, capturing the long-term impacts and behaviour changes resulting from sports participation remains an ongoing challenge in the sector.
Investment Needs to Align with Community Needs
Jon Hymus underscores the crucial importance of initiatives that directly address the unique needs of the communities they aim to impact. He warns against relying solely on quantitative data, emphasising the need to consider qualitative aspects as well, as a narrow focus may lead to empty facilities devoid of purpose. To ensure effective investments, community involvement and co-design play pivotal roles in accurately identifying and addressing relevant needs. Hymus further highlights the necessity of activating facilities through meaningful engagement with local communities and partners.
Cross-Sector Collaboration and Activation Plans
Jamie Foale brings to light the significant shift observed in the sector, shining a spotlight on the increasing utilisation of cross-sector collaboration to achieve successful outcomes. The focus has evolved beyond investing solely in physical infrastructure, now encompassing collaborative efforts that engage partners in delivering activities, leveraging digital platforms to raise awareness, and establishing robust M&E systems to glean insights from investments. Achieving sustainable investment hinges on the proportional allocation of resources between physical infrastructure, people, and digital aspects.
Data-Driven Decision Making and Sustainability
Simon Hughes raises thought-provoking concerns regarding the current approach where decisions are made first, with data being used to justify them retroactively. He passionately advocates for a paradigm shift that places a greater emphasis on understanding data and conducting local activations. Hughes highlights the disparity between investor decisions and what the community actually needs, underscoring the urgent need for investment strategies that are more sustainable through improved data analysis and a firm alignment with the realities of local communities.
In conclusion, this panel discussion at Elevate 2023 has revealed a promising path forward for sports facility investments and accessibility. By embracing comprehensive data collection, community involvement, cross-sector collaboration, and data-driven decision-making, we can create a transformative and sustainable impact in the realm of physical activity. Let us heed the lessons learned and strive for investments that truly empower individuals and communities, making sports accessible to all.
Huge thanks to the exceptional panelists who shared their invaluable expertise! Stay tuned as we share more remarkable ideas that sparked engaging conversations during this event.