Bookteq powered by Playfinder, becomes the world's first facility booking company to be awarded B Corp status!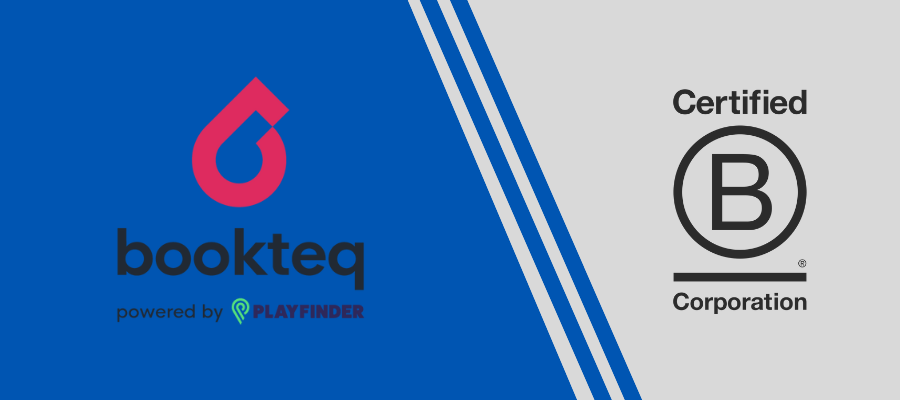 Certified Beneficial Corporations, or B Corps, are companies verified by B Lab to meet high standards of social and environmental performance, transparency and accountability. We are one of just 4,000 brands globally, and 800 across the UK, to become B Corp accredited. This showcases our continued commitment to the social impact Bookteq is having on people's health and wellbeing. 
We remain dedicated to building a world where everyone has equal access and opportunity to sports facilities. Enabling people to get active and keep healthy. And helping schools, councils, and sport clubs to open up their facilities to the public, and have a lasting impact in their communities.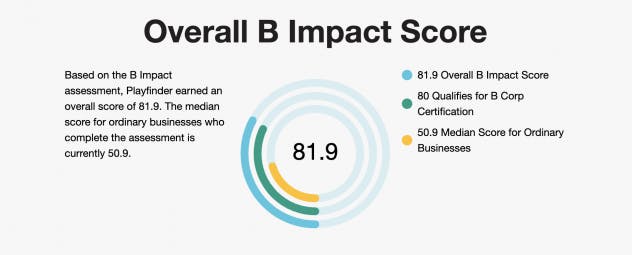 Increasing social impact through ease of access
Bookteq's social impact has been felt across the sector. Working with councils such as Ealing, Waltham Forest and Bedford to reach more of their local community. Helping the likes of Padel4all to fill spare capacity and grow padel tennis. Tackling inequalities and reducing barriers to access as a supplier of the Football Foundation Playzones pilot. And shining a light on hundreds of schools, sports clubs and community centres across the UK.
It's been a privilege to see the social impact of simply making sport more accessible to people from disadvantaged backgrounds. With some venues having the IMD score of the average player drop by 24%. While also having an increase in facility utilisation by over 50%!
Growing community use of facilities and spaces
It's never been more important for operators of sports facilities to engage with local communities to ensure people have the best opportunities to get active. We have seen the demand for sport double since 2019 as people have looked to be connected to local sports facilities across the country. Venues have benefitted from better online technology that has both helped keep the lights on, and put their facilities at the heart of the community.
Empowering our team to deliver excellence
We're proud of our dedicated and diverse workforce. We've built a talented team of diverse individuals, who strive to deliver exceptional products and a first-class service. We are firm believers that by creating a welcoming and inclusive environment to work in, our staff will not only grow & thrive, but will want to deliver that same care and attention throughout the customer journey.
Working at Bookteq means being empowered to make your own decisions, from choosing suitable office hours to deciding which skills and career path to pursue. Every member of staff is an equity holder in the business through a share option scheme, and every member is paid at least a living wage, rather than a minimum one.
Leading values, lasting impact
The process to achieve B Corp status is rigorous. It has required us to take stock of how our products and our people can have significant social impact. We're proud of what we've achieved so far, changing the way people access sports and activities. While also building, and supporting a passionate team of people who live and breathe our purpose. 
Jamie Foale, CEO of Playfinder, said: "Being awarded B Corp status is a proud day for the whole Playfinder team. We were founded on the idea of making it easier for people everywhere to play sports and get active. This mission continues to be at the heart of everything we do. And as the industry continues to embrace digital solutions, the social impact of Playfinder and Bookteq will only grow stronger."