Organisations and venue managers across the UK have digitised their booking management, but why have they chosen to move the process online? For those who are hesitant to make the change to digital but are curious to know more,
Bookteq's
all in one cloud-based booking software will address your concerns.
What is an online booking system?
Online booking systems are a way for venues manage their facilities by taking bookings, issuing payment requests and managing customers. An online system can also allow customers to book instantly via their website rather than having to place bookings manually.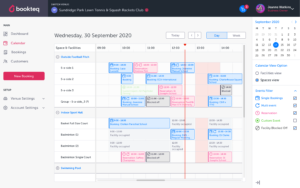 Bookteq's software
provides seamless management of both client demand and venue resources with customer
support, a booking calendar and automated invoicing as notable features.
Why should I consider an online booking system?
If you are considering making the switch to an online booking system, you should be sure of what you want to get out of it. You should consider an online booking system if you are looking to:
Streamline the booking process
Operate a contactless booking system
Reduce admin time to free up time elsewhere
Manage multiple venues & facilities
Make it easier for customers to book
Why should I choose Bookteq?
Choosing Bookteq's cloud-based software to manage your venue will allow you to streamline your bookings management by uploading facility booking slots to Bookteq's online booking calendars.
Furthermore, Bookteq integrates with the largest online sports facility portal in the UK, Playfinder. Playfinder sees thousands of users pass through the site weekly. Sports venues who use Bookteq have seen the benefits, like Brighton Aldridge Community Academy (BACA). BACA increased their revenue by 21% in their first two years with Playfinder and received six times as many pageviews than non-partner venues in the same area.

With the prevalence of COVID-19, how important is an online booking system?
Safety of customers and staff is of paramount importance to any sports facility. The pandemic has posed significant challenges to businesses, but online booking can help customers feel safe and confident to return to your premise.
To ensure maximum safety to players, Bookteq offer a risk assessment form for users to fill out before they play. Helping put them at ease by understanding the risk before turning up. Not only this but Bookteq enables buffer periods between bookings, giving staff enough time to ensure the facility has been cleaned and players from the previous booking have left. Lastly operating with Bookteq means the booking process is contact-free, keeping human contact to a bare minimum.
Get in touch with our team to learn more about how Bookteq can help manage your venue facilities.