Marketing. It's a word that conjures up TV adverts, billboards, magazine adverts and more.
All of which come with a hefty price tag. But, did you know there are forms of advertising that can cost you little or no money? There are! So, if you're looking to market your sports facilities with little or no budget, keep reading!👇
Define your audience
The idea of marketing your sports facilities and gaining an influx of new customers is an exciting one. But, don't get carried away yet!
Before you start drafting up a marketing plan or buying flashy online tools and adverts, you should first spend some time defining your audience. Trust us – taking the time at this early stage to clearly define who you'll be targeting will save you plenty of time and money later on – most importantly it'll make your marketing efforts more effective.
How to define your audience
It's easy to say you should define your audience, but how exactly do you go about doing that? Well, the first thing to do is look at any current data you have. Who uses your sports facilities at present? If you have a membership list or similar, this can be a valuable source of insights.
Ideally, you want to identify some common themes amongst your most loyal customers:
● Age
● Gender
● Location
● Employment status
● Number of visits to your facilities per week/month
● Which classes (if any) do they take part in
● Average spend per visit
Whilst it's not always possible to glean all of this information, if you can get hold of as much as you can, you'll be able to build up a picture of who your main target customer is.
From there, you can better shape your marketing activities. For example, if you find that the bulk of your customers are middle-aged women, then you'll know that marketing your facilities on Facebook will be a much more fruitful use of your resources than marketing on TikTok (which has an average user age under 25).
Once you've defined your audience, then the next step is to assess your marketing mix.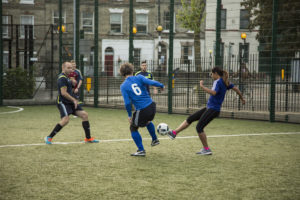 Assess your marketing mix
When we say marketing mix, we simply mean the different marketing channels you have available to you and that will effectively reach your target customers. Think online and digital platforms, offline tools such as posters or pop-up banners, in-person events etc.
You might be surprised at what low-budget, high-impact marketing channels you have at your disposal…
For many sports facilities, their marketing mix will look something like this:
● Website – generally with a news or blog section
● Email – either through a basic email service such as Outlook or Gmail, or via a dedicated email marketing service such as Mailchimp
● Social media – such as a Facebook page or Twitter account
● Physical promotion – posters, banners, flyers
As the list above indicates, some channels are free to use (e.g. social media), some require a monthly or yearly fee (such as a monthly subscription for your email service or annual website hosting fees), and others are free to use, but can be enhanced with paid advertising (e.g. Facebook and Twitter).
Naturally, you should be making use of each of these channels to promote your sports facilities, but which ones you decide to spend more time or money on should depend on your target audience.
To help you, we've outlined the way you can use each of these channels/platforms to promote your sports facilities below.
How to use your website to promote your sports facilities
When promoting your sports facilities, your starting point should be your website.
These days, when somebody wants to research something, what do they do? Nearly every time, they'll resort to a Google search. And, if they've searched by your brand name, the top result they'll generally see is your website.
So, here's a hack that'll boost the effectiveness of your website… keep it updated!
We know that sounds blindingly obvious, but it's something that's overlooked by sports facilities surprisingly often.
Keep your website up to date with your facility's availability, dates and times of classes and other pieces of news and information that your target customer will likely be searching for.
Keeping your website updated is remarkably cost-effective too. All you need to do is set aside a few hours each week to update each relevant part of your website.
A note on SEO
SEO (Search Engine Optimisation) is the art and science of making your website more visible on search engines like Google and Bing.
Whilst SEO is a massive subject and we don't have space to go into all the details here, it's worth looking up some of the basic SEO fundamentals and applying these to your website. Google offers plenty of free online courses that will teach you the essentials.
In short, SEO simply involves a bit of homework and tinkering on your website, and as such is a cost-effective way of getting your website seen by many more potential visitors.
A quick SEO 'hack' is to ensure that your sports facilities are listed on Google My Business.
This free service from Google provides you with a free business listing on Google's results pages and is not only a brilliant way of attracting new visitors to your website but it can be used to keep existing customers up to date on things like opening times etc.
Make it easy to book
Of course, once you've got people on your website you want them to make a booking.
Instead of messing around with telephone lines and email forms, you can make the booking process as easy as possible (for you and the customer), by using an online booking service such as Bookteq. That way, visitors can see your availability and book directly on your website with no fuss.
How to use email to market your sports facilities
Email may have been around for decades, but it remains one of the most effective marketing tools available.
Hopefully, you already collect your customers' email addresses as a matter of course, but if you don't, then start!
There are several ways you can build up an email database:
● Via a sign-up form on your website
● By collecting emails when you take bookings from new and existing customers
Note – it's really important that you collect emails in the right way. You must have permission from the customer to contact them for marketing purposes. If you don't collect emails compliantly, then you could face repercussions under the Data Protection Act.
Once you've built up an email database, you should send out regular email campaigns. These could be weekly, fortnightly or monthly – just don't bombard your subscribers with too many – they'll quickly suffer email fatigue and unsubscribe.
In terms of the email campaigns themselves, there are a number of different types you should try sending to your subscribers:
● Special deals and promotions – try offering a time-limited discount if you want to drive a surge of bookings.
● Facility availability – if one of your popular facilities has suddenly become available, let your subscribers know!
● New season – is the football season about to start? Is Wimbledon on? If a major sporting season or event is about to start, the chances are you may have subscribers who are looking for somewhere to play.
Just remember – whatever type of email campaign you're going to send, make sure it actually has some value to the subscriber. Before you hit send, read your email campaign over. If a subscriber wouldn't think it's useful to them personally, don't send it.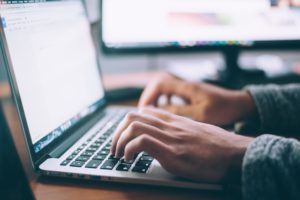 How to use social media to promote your sports facility
Social media is a tool that should be in every facility manager's kit. It's free (up to a point), it has a huge reach, and it can be accessed at any time of day or night.
What social media channels you choose to focus on will depend on how you have defined your audience (see the beginning of this article).
Focus your social media efforts
Notice the word 'focus' in that previous sentence. Yes, if you're working with a limited budget and resources we strongly recommend that you choose at most two social media platforms to focus your efforts on.
Far too often we've seen sports facilities that have Facebook, Twitter, Instagram, Pinterest, Snapchat etc, where none of them have been updated for months…
There's no point in having multiple channels if they're dormant.
Focus your efforts. By and large, Facebook and Twitter tend to be the best channels for sports facilities. Facebook has excellent community-level reach, with lots of local groups and great levels of engagement. Twitter is ideal for those last-minute announcements or for shouting about special offers. and Instagram is a great place for discovery, making it the ideal platform to target a younger audience.
Make use of hashtags and tag social media accounts
Starting up a social media channel from a small or zero-base can be intimidating, but there are a few things that can give you a boost. The first involves the careful use of hashtags.
Hashtags
Do enough research and you'll find that there are local, community hashtags that you can add to your Facebook posts and tweets in order to gain relevant attention.
Note that we said the 'careful' use of hashtags. Make sure you properly research a hashtag before using it. If you're not careful you may end up using an inappropriate hashtag and get the wrong sort of attention for your sports facility.
Tag other social media accounts
Whether you realise it or not, your sports club, school or university already has plenty of supportive friends on social media!
The majority of local authorities, local health bodies, community organisations and others have their own Twitter and Facebook accounts and will be happy to share your posts to their own audiences and followers. Tag them into your posts and you could quickly find your posts being viewed by hundreds, or possibly thousands, of potential customers!
Like any marketing tactic, you should be careful not to overdo this though. Plus, if an organisation does share some of your posts, return the favour and share some of theirs! Before you know you'll have built a supportive, effective community online.
How to use offline marketing to promote your sports facilities
Whilst there's lots you can do online to promote your sports facilities, don't forget the power of traditional marketing methods!
As a sports facility, this form of marketing is particularly good for you. Why? Because you've got plenty of real estate where you can hang banners, put up posters and distribute leaflets. Also think about areas of heavy footfall at your venue, e.g. receptions. where your marketing will be easy to see.
Sure, these things have an upfront cost, but modern print-on-demand manufacturing methods means it's easier than ever to order small volumes of materials – so the bad old days of being stuck with 10,000 leaflets are no more.
The key to success with offline marketing materials is to use a concise message – be clear, don't try and promote a million and one things, and ensure that the reader knows what action you want them to take e.g. 'book now'.
Distribution is another key to success with printed marketing materials. If your posters and leaflets are sat in a cardboard box, they won't be doing their job. It helps to reach out to local organisations (remember the ones we mentioned in the social media section above?) and ask if they will display your posters and leaflets.
The more people who see your printed materials, the more likely you are to convert them into customers!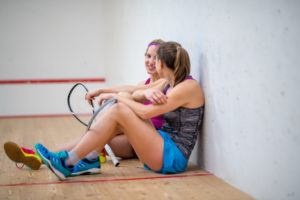 Make your sports facilities thrive with Bookteq
We're not just full of handy marketing advice! At Bookteq we work with facilities of all kinds to help them maximise their revenue and customer base with our innovative sports facility booking and management software.
Find out how Bookteq can transform your booking and facilities management today.
Discover more sports facility advice and information on the Bookteq blog…
How to Use Your Sports Facilities to Generate Revenue | Why Facility Booking Software Is Critical to Your Business | Benefits of Owning a 3G Pitch