We're always making improvements to Bookteq and we're excited to announce our latest release: Add-ons & Additional Questions!
What are Add-ons & Additional Questions?
Would you like to add extras to your checkout process, and gather additional information about your customers' bookings?
Add-ons and Additional Questions allow you to:
Let customers apply Add-ons to their booking like equipment or changing room hire
Find out more information from customers to make sure their booking goes ahead as safely and smoothly as possible
Hire out spaces more easily for special events and classes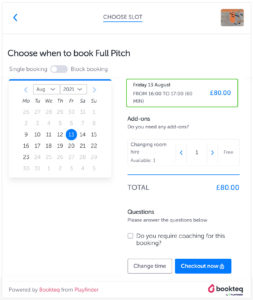 Benefit to venues
By allowing bookers to choose Add-ons for their booking, venues can increase their revenue per booking and save the time of clarifying details with customers. It also allows them to take payment for all aspects of the booking in one go. This simplifies the process for both the venue and the customer.
"The Add-ons feature on Bookteq answers a key requirement for our business as it's crucial to be able to offer the customer extra items on checkout such as racket hire, giving them more choice and allowing us to maximise revenue."

Dax Mellor, Operations Director at Padel4all
Being able to ask your customers pre-set questions is also very helpful for staff, as some bookings can have many variables. Hiring out a clubhouse for an event means you may need to know how many people are attending and check if catering if required. Additional Questions allow you to do this quickly and easily.
Venues can also use Additional Questions to give customers the chance to ask their own question. This will be stored directly within the booking, meaning that staff don't need to copy over any details from a separate email conversation or call.
"We also wanted to be able to have the opportunity for us, and our customers, to ask Additional Questions. This helps us learn more about our customer's needs before they arrive, which enables us to better prepare for their booking and provides them with the best possible experience whilst at our centres"

Dax Mellor, Operations Director at Padel4all
Creating Add-ons and Additional Questions
If you have a Bookteq account, Add-ons and Additional Questions are easy to set up in your Venue Settings.
For Add-ons, you simply name your new Add-on, set a price per item, and select the facilities you want it to apply to. You can also make your Add-ons free of charge.
Additional Questions are just as easy to set up. All you need to do is write your question and choose whether you want the answer to be free text, yes/no, or a number. Then you select the appropriate facilities and save your changes.
In both cases, once a facility is assigned an Add-on or Additional Question, your booking calendar widget will update instantly.
Using Add-ons and answering Additional Questions
There are two ways customers can interact with these two features:
Customers can select Add-ons and answer questions via your website's booking calendar widget before they check out

Staff can also do this on a customer's behalf when you create a booking directly within Bookteq
Bookings with Add-ons or Additional Questions are clearly marked within the Bookteq system. This allows staff to view them quickly and easily and take appropriate action.
If you are already a Bookteq client, you can find more information on how to create and use Add-ons and Additional Questions through your Bookteq account and our help centre.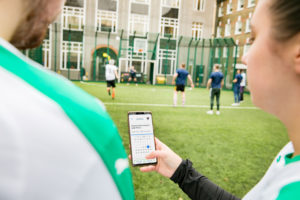 If you'd like to find out more about Bookteq, see how we help schools, sports clubs and councils. You can also speak to a member of our team through our live chat.