In this blog, we will look to show you a few tips and tricks on how to market sports facilities. If you run a sports venue that hires out its facilities this is one for you. COVID-19 has left venues searching for ways to boost revenue without spending a lot of money.
How to market sports facilities on a budget
Below are 5 proven marketing methods that help venues increase return on their facilities. These ideas are perfect for small businesses with little or no marketing budget to work with.
Email marketing
Email marketing is a tried and tested method for converting customers. There's a reason you get so many and that's because they work! Emails can be easily dismissed, with a perception of being associated with 'work' or spam, but they don't have to be. Sport is fun, social and great for fitness. When you have a week of great availability on your pitch, let your customers know about it! If someone's subscribed to your mailing list it's likely they're interested in playing.
Next, time to get creative. Think about content themes that might motivate people to get out and play e.g. as the winter nights draw in, put out something like #floodlightfootball or #fridaynightlights. Just be careful not to overdo it, one or two emails a week is enough.
Social media
Another great way to connect with thousands of new players is social media. Players are often looking to Twitter or Instagram to check out venues in their area. Getting a bit more tech-savvy, you could use or encourage players to tag the Geo-Filter location when posting to Instagram. This shows images posted at the location of your venue, similar to Google maps.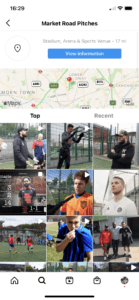 Optimising your website & online bookings
Arguably the most important in retaining customers and attracting new ones is ensuring you have a good website. Having a good website with strong content and a slick user journey is key. Not only will this boost the conversion rates of people booking but it will also help you to rank higher on Google when people search for your facilities.
Another way to rank higher on Google is to include popular search terms on your website. If you're a tennis club based in Croydon, be sure to have a few mentions of 'tennis in Bromley' and 'south London tennis' on your page to attract customers searching for those phrases.
Online bookings for sports facilities are becoming more and more popular. COVID has further stressed the need for online bookings, with habits changing to more people pre-booking online. Online bookings also offer a contactless user journey and being able to book a slot any time anywhere  7 days a week.
Offline marketing
The more traditional approach of offline marketing might include flyers, posters or banners. Putting out flyers and posters informing the local community of your facilities can be a great method of creating awareness. In addition, though slightly more expensive, pitch or court-side banners near busy public footpaths are a great way to attract new faces.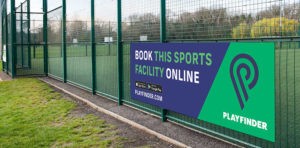 Paid advertising
Lastly, we have paid advertising. Do you have a budget put aside for marketing your venue? Google or Facebook Ads can be a great way to create awareness and get new customers through the door. If you have just started out on social media, boosting posts from your accounts for as little as £1 a day can help to get your pages and venue recognised.
Bookteq helps independent sports venues market their facilities using all the ideas above and more. If you would like to hear more about how to market sports facilities and moving to online bookings, visit the Bookteq homepage.