In this blog, we will show you why and how to rent out your clubhouse. Clubhouses play a special role in forming a club's identity and atmosphere, but they can also help you get some extra revenue through the door.
Why clubhouses are going underutilised?
Most will agree that their clubhouse remains unused for hours throughout a week. A huge misconception is that clubhouses have no real benefit to the wider community, and their sole purpose is to cater for matchdays. Furthermore, while facility managers may already hire out their pitches and courts, they might not even think to rent out their clubhouse to the public.
Hire out your clubhouse
You might think who on earth would want to rent a clubhouse? The answer, a lot of people. Clubhouses are a unique space that can serve multi-functional purposes. A few examples of what it could be used for:
Meeting room for local businesses
Studio space e.g. dance or yoga classes
Private functions and events e.g. wedding receptions or parties
The list goes on.
How to hire out my clubhouse
The process alone can put you off the idea of letting out your clubhouse. However, setting up a new venue or facility is effortless when using Bookteq software. The software will allow you easily upload your clubhouse for others to book online, and you can see how easy it is to get started here. Also, if you already hire out sports facilities, you can bring them over to Bookteq and increase revenue for them too!
Why choose Bookteq? Bookteq is a product of Playfinder, a fantastic marketplace that connects your facilities with thousands of users online.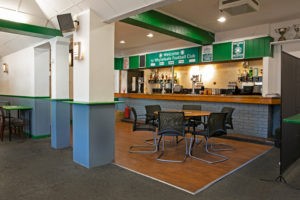 The financial implications of COVID could mean this option is a no brainer for you. Venue cash flows have been suffocated by the pandemic and there is a growing trend of venues looking to maximise their revenue by letting out facilities. Why limit yourself to hiring out pitches and courts when you can also make use of your indoor space?
Tooting & Mitcham United FC is an example of a club that have adopted Bookteq to move their booking process online. In addition, they saw utilisation rates increase by 29%, which had a significant impact on their revenue increase.
Jackie Watkins said, "The Playfinder booking system has provided us with a great tool to manage our bookings and easily sell our available slots – they have found us new customers and increased our pitch utilisation."
If you are looking to get more revenue out of your facilities head over to our website to find out more.