Hot on the heels of PaySplit, we're very excited to announce another brand new Bookteq feature that will improve the booking experience for you and your customers: Online Block Bookings. Online Block Bookings are here to assist you so that you can focus on your venue; your customer on their activity.
What are Online Block Bookings?
Online Block Bookings lets your customers make repeat and block bookings through the booking calendar widget on your website for your approval. The new feature moves you away from the manual block booking process, and brings an end to the constant back and forth between you and your customers to find the right dates and times for them. Less checking dates, less invoicing, less hassle. This reduction in admin related tasks allows your team to focus on more important priorities, increasing productivity, and saving you money.
In summary Online Block Bookings will:
Allow your customers to make block bookings online
Reduce the time you spend on booking management
Give you the ability to approve or reject bookings
Offer your customers payment plans for block bookings
Automate invoicing and debt collection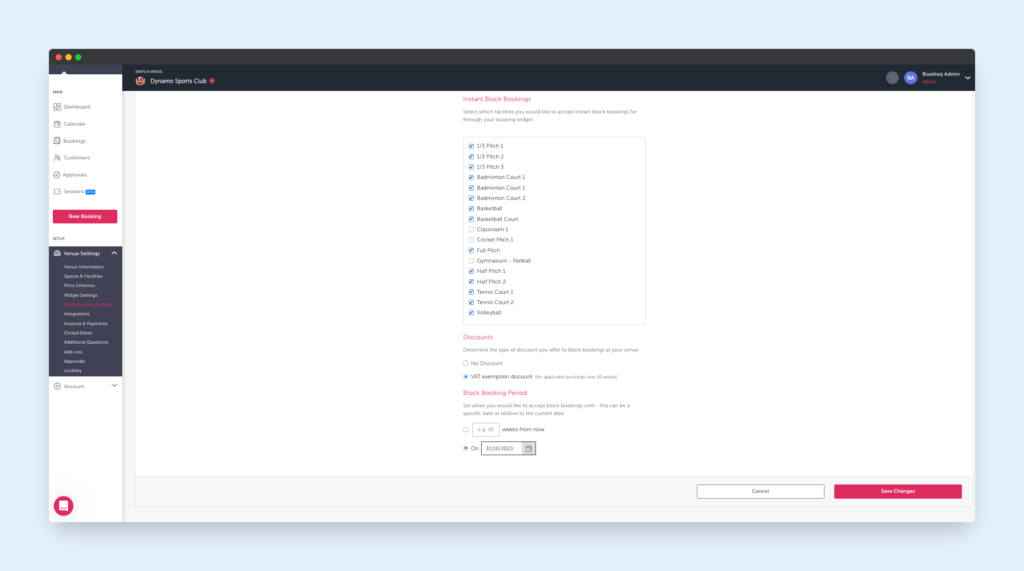 Your customers will love it too!
Instead of waiting for you to approve or decline a block booking manually, customers can successfully book and pay for a block booking without any delay. It eliminates the customer's uncertainty on whether their booking will be successful or not. Fast-tracking the booking process means happier customers, who are more likely to make use of your services again.
In addition to Online Block Bookings and partly in response to the cost-of-living crisis, Bookteq is also introducing a new payment plan feature that will be a welcome respite for budget conscious customers. With the new payment options customers are now able to spread the block booking fee over weeks, months, or even quarters – ensuring that a lump sum booking fee is not a barrier that excludes people from staying active and taking part in sport activities.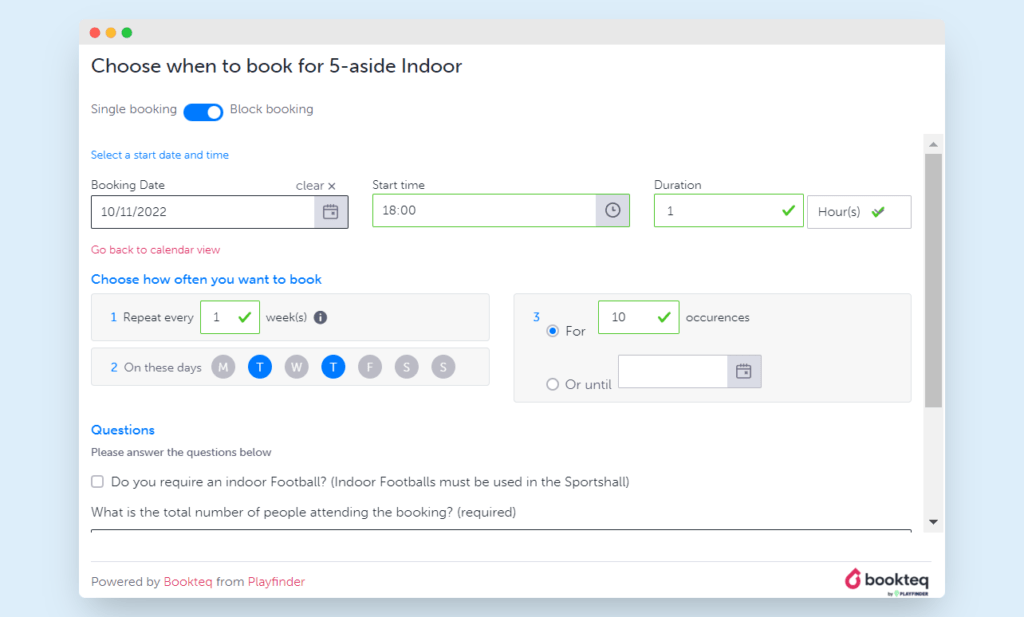 How does it work for customers?
For customers, Online Block Booking is easy and intuitive to use. All they need to do to make an Online Block Booking is:

1. Choose an activity & select the Block Booking tab above the calendar, or change a single booking into a block booking at the checkout
2. Let you know when and how often they want to book
3. Review their selected bookings & choose alternatives for any flagged as unavailable
4. Pay at the checkout – payment will only be taken after you've approved their booking
How to enable Online Block Bookings?
If you have a booking calendar widget, we have already enabled it for Online Block Bookings with some default settings. If you would like help to update or change these settings, please contact our
support team
.
Live Online Block Bookings demo
Join us at 11am on the 10th of November, where our Bookteq experts will give a live demo of the new feature and answer your questions along the way.
We'll take you through the set-up, enabling the feature on your calendar widget, the booking approvals process, and more.
Can't make it? We recommend you register to be sent a recording after the event.