At Bookteq, we're always striving for ways to make things easier for you and your customers. That's why we are constantly working hard behind the scenes to bring you innovative and exciting features to achieve that.
Introducing our all-new payment splitting function- PaySplit! A whole new way to make it easier for your customers to share payments.
What is payment splitting?
With Bookteq, your customers can already book your facility online 24/7 sitting in the comfort of their homes. How would you like to make their experience even more seamless and user-friendly? This is where the PaySplit feature comes in handy.
Payment splitting allows your customers to:
Collect payments from those they are playing with by sharing secure payment links directly with groups

Stop chasing payments for weekly bookings and managing time-consuming bank transfers

Create a quick and convenient way to manage the split of payment for group bookings

Keep track of all participants and their share of the cost for each booking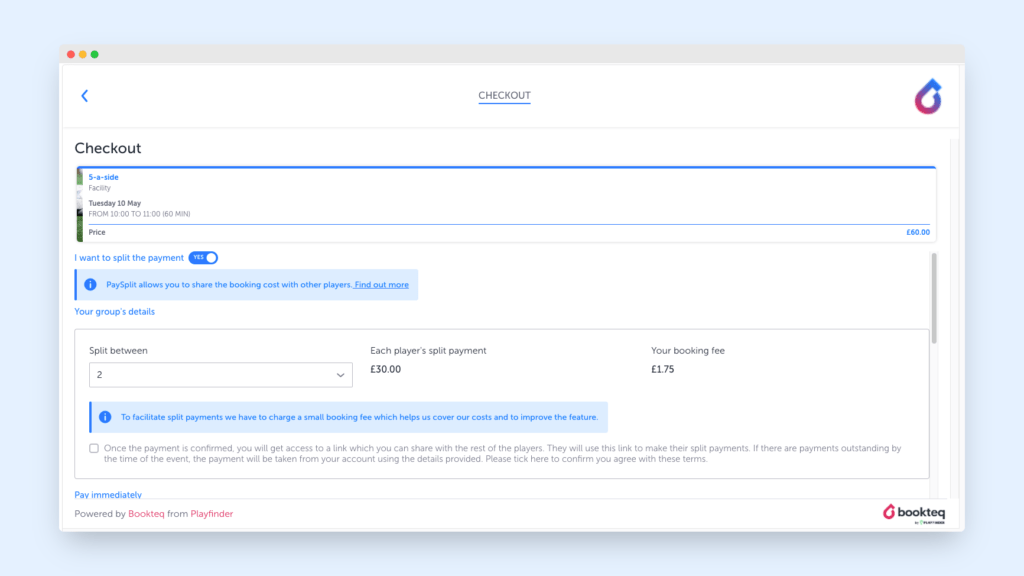 Benefits to venues and their customers
We've all been there. Without the PaySplit feature, your customer books a facility for their group, and then spends all of their free time chasing each participant for money. The PaySplit split payments feature makes this process hassle-free for your customers.
By allowing them to easily share a unique and secure payment link amongst their group, you're enhancing their entire booking experience and ensuring your customers keep coming back for more group bookings.
Bookteq is also one of the few UK-based online sports booking systems that offers a payment splitting feature to venues. With the PaySplit feature, your players are happy with you as they can play together and pay together, with ease.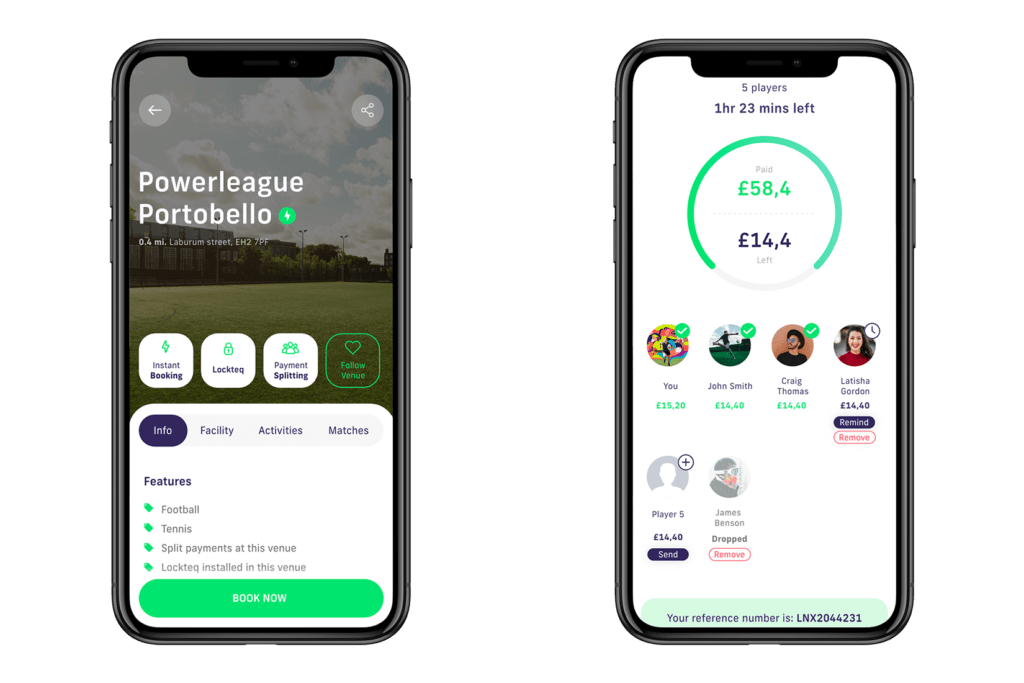 How PaySplit works?
PaySplit is simple, quick and easy to use for your customers. Here's how:
The customer books one of your facilities via your

Bookteq widget

, or

Playfinder listing

, and selects the payment splitting option as they check out.

The lead booker is provided with a unique and secure payment link to share with their group in order to collect everyone's share of the payment

Your venue receives full payment before the booking takes place
Bookings made using the payment splitting feature are clearly marked within the Bookteq system. This allows staff to identify them quickly and easily to track progress.
If you'd like to find out more about PaySplit and how it works, speak to a member of our support team via our live chat or by sending an email to support@bookteq.com.