Bookteq, powered by Playfinder, is recognised as a socially-good, B-Corp certified organisation tackling inequalities and breaking down barriers to access sport, activity, and play. We're on a mission to make it easier for everyone to play sports. Through our online marketplace Playfinder, we give over a 100,000 participants monthly access to pitches and courts. Alongside this, we help to reduce admin and increase facility utilisation for grassroots and community sports venues through Bookteq.
How PaySplit is getting more people closer to the action
We recently launched PaySplit, an in-app payment splitting feature that allows a person making a booking to easily split the cost of the booking among their team/group. Before the implementation of PaySplit, booking a 5-a-side football pitch (for example) required one person to fund the full booking cost and then recoup the cost manually, offline, from all of the other players.
PaySplit allows the person to book, pay their share, and automatically forward a share link to each of the other players. This means that each participant can pay their share separately through the Playfinder app. Sharing the lump sum among the full group shifts the financial responsibility from an individual to the group. A responsibility that might otherwise be a financial hurdle that deters many from booking a sports facility and getting active – a socioeconomic issue compounded by the cost of living crisis in the UK.
PaySplit was recognised for its social impact at the 2023 London Sport Awards where it was nominated for the Digital and Tech Innovation Award. Watch the nomination video below: 
.
Getting more people comfortable booking sport facilities
Through use of the share link, PaySplit brings more users in contact with the Playfinder app than if an individual had made a booking on behalf of the group in isolation. This increase in familiarity with the Playfinder app, which has seen a 10% split-payment-to-app-download conversion in its first trial uses, means that there are more participants closer to accessing more sport and activity opportunities on their phones. These participants are then in a higher state of readiness to be engaged and use the Playfinder search and booking features to discover more sport, which again, makes sport facilities more accessible. New users can easily re-book the same facility more times or conveniently discover a plethora of other sport facilities and activities available in the UK.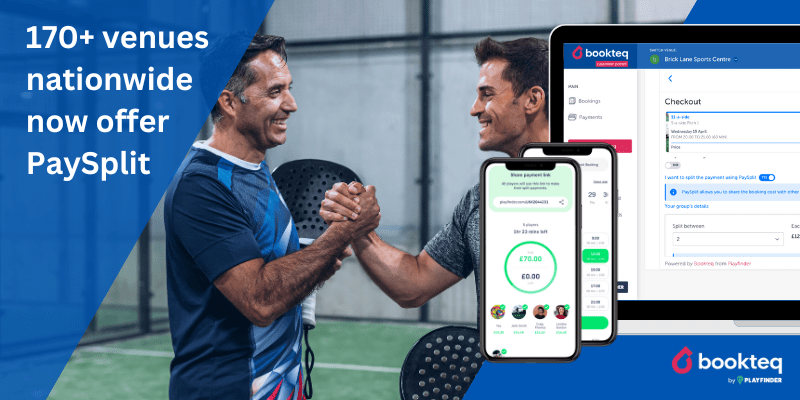 Benefits to facility operators and the broader community
The far-reaching and long term benefits of PaySplit and the subsequent increase of Playfinder users will be felt by activity participants as mentioned, but also importantly by the facility operators and their surrounding communities. Facility operators include; schools, councils, sports clubs and leisure centres, all of whom will benefit from an increase in public awareness that correlates to the growth of the Playfinder user base, as well as more bookings – due to an improvement in accessibility led by the introduction of PaySplit.
Learn more about how Bookteq powered by Playfinder can help Schools, MATs, Councils, Sport Clubs, and County FAs increase access to sport, by placing sports facilities at the heart of the community.