Insights from three years of sport facility booking trends
In the ever-evolving landscape of sports facility management, it's crucial to keep a finger on the pulse of booking trends to make informed decisions. Understanding when and how your facilities are in demand can optimise resource allocation and revenue generation. In this report, we delve into the monthly booking trends based on three years of data, offering insights that illuminate what we can expect for the remainder of 2023 and onwards.
Through Playfinder (the UK's largest marketplace for sport facility bookings) and Bookteq (UK's leading sport facility booking software) we have obtained this data from several hundred thousand bookings across various schools, councils and sports clubs, providing a comprehensive view of the industry.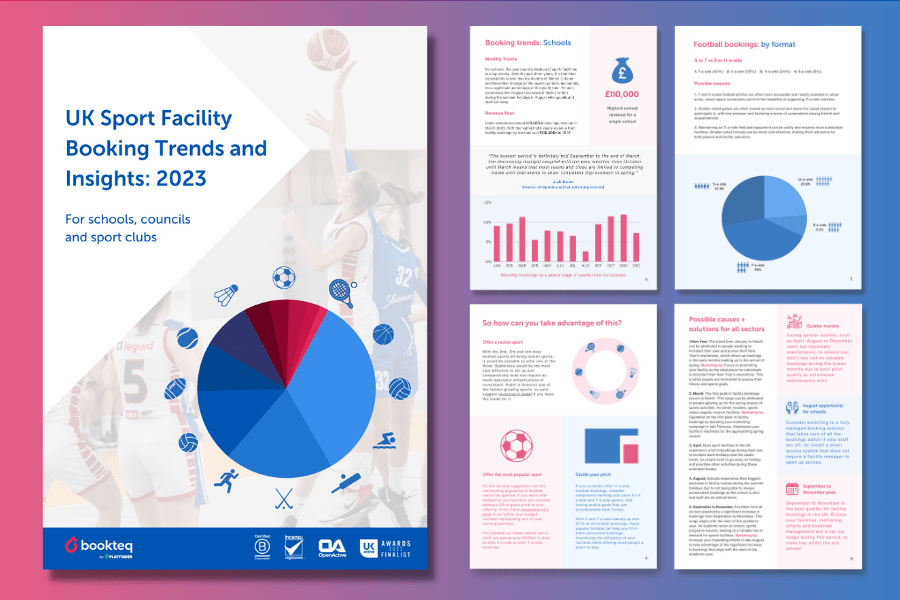 This report investigates the following key areas:
Discover the most popular types of sport facilities

Comparative analysis of 5-a-side, 7-a-side, 9-a-side, and 11-a-side football formats

Monthly sports and activity booking trends at schools, councils, and sports clubs

Revenue generation peaks for sport facilities

Insights into revenue figures for leading facility operators generated by lettings

With facility bookings data from:
300,000+ bookings made through Bookteq
600+ venues
3935+ sport facilities and spaces
£12,000,000+ in bookings revenue
Download the full report for free below