Building a tennis court is a significant undertaking, one that involves a careful consideration of costs, maintenance, and potential returns. In this article, we explore the financial aspects of constructing and maintaining a tennis court, providing insights into the initial expenses, ongoing upkeep, and the justifiability of such an investment.
Table of Contents
Cost to develop a tennis court
Tennis court maintenance costs
Total court cost summary
Is the cost of building a tennis court worth it?
Additional costs to consider
Cost to develop a tennis court
According to Sport England's latest facility cost guide, a single macadam tennis court costs between £125,000 and £135,000. This cost is for a typical tennis court used by sport clubs and community sport centres that measure 33.53m x 16.55m with a runoff*, and includes fencing and floodlighting. Building two (£245,000), four (£435,000), or six (£570,000) joined courts simultaneously lowers the relative cost of each court.
Keep in mind that these costs are to build and develop these facilities from scratch, meaning that it also includes; an external works allowance (car parks, roads, paths, services connections etc); fees inclusive of project management, site investigation, planning and associated fees.
*The minimum LTA-approved specification is 17.07m x 34.77m, so will be slightly more expensive.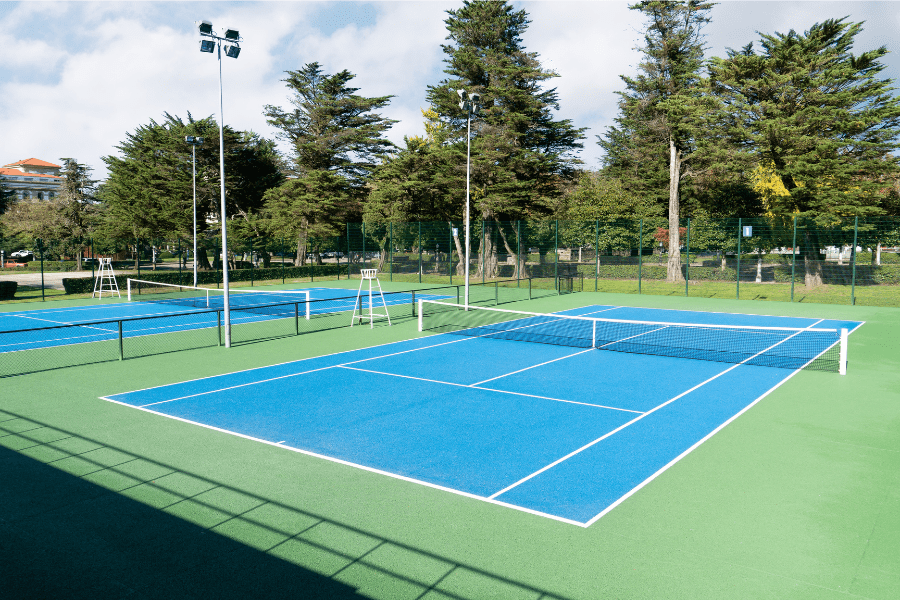 Court maintenance costs
After budgeting for the initial costs of building the facilities, it is important to take annually recurring maintenance costs into consideration. Calculated as a percentage of total project cost per annum, the sinking fund and maintenance costs of a macadam surface tennis court is 1.6%. As a percentage of £135,000 this comes to £2160 per annum to cover major replacement costs, day-to-day repairs and planned preventative maintenance of a 33.53m x 16.55m tennis court, fence and floodlights.
Total court cost summary
Cost to develop a single 33.53m x 16.55m tennis court is: £125,000 – £135,000
Annual sinking fund and maintenance: £2160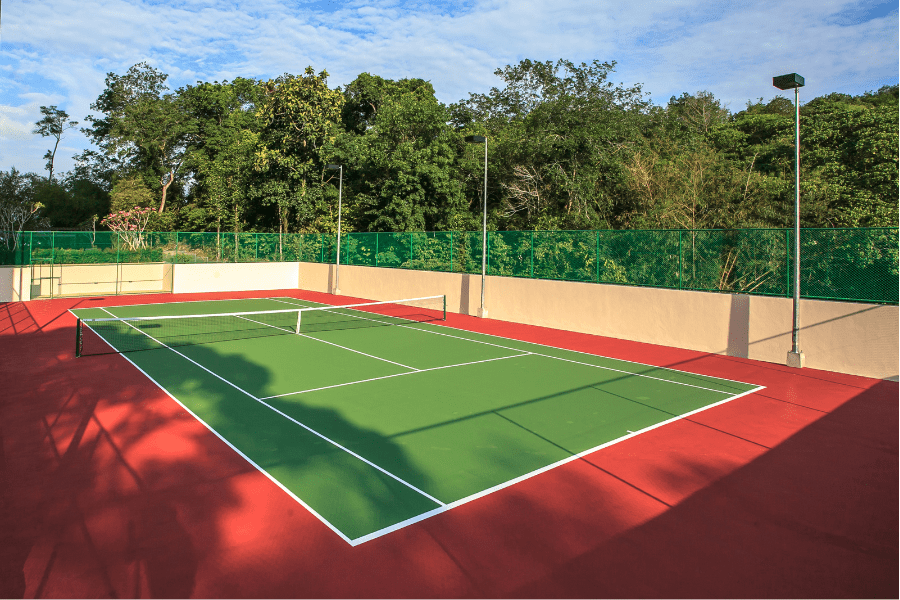 Is the cost of building a tennis court worth it?
If your intention is to hire out a tennis court, the cost of building one can certainly be justified. Despite the rising popularity of sports like Padel, which has taken some bookings away from tennis, tennis remains highly popular. In fact, it is still the third most booked activity on Playfinder, powering Bookteq, ranking below football and badminton but above Padel in fourth place.
Considering that the average court rental rate ranges from £10 to £20 per hour, and sometimes even up to £40 per hour, building 6 courts (£570,000) would require each court to be rented out for 4750 hours (at £20 per hour) in order to recoup the capital investment in your tennis facilities. This would equate to approximately 3 years of consistent rentals, taking into account the viable booking hours in a day.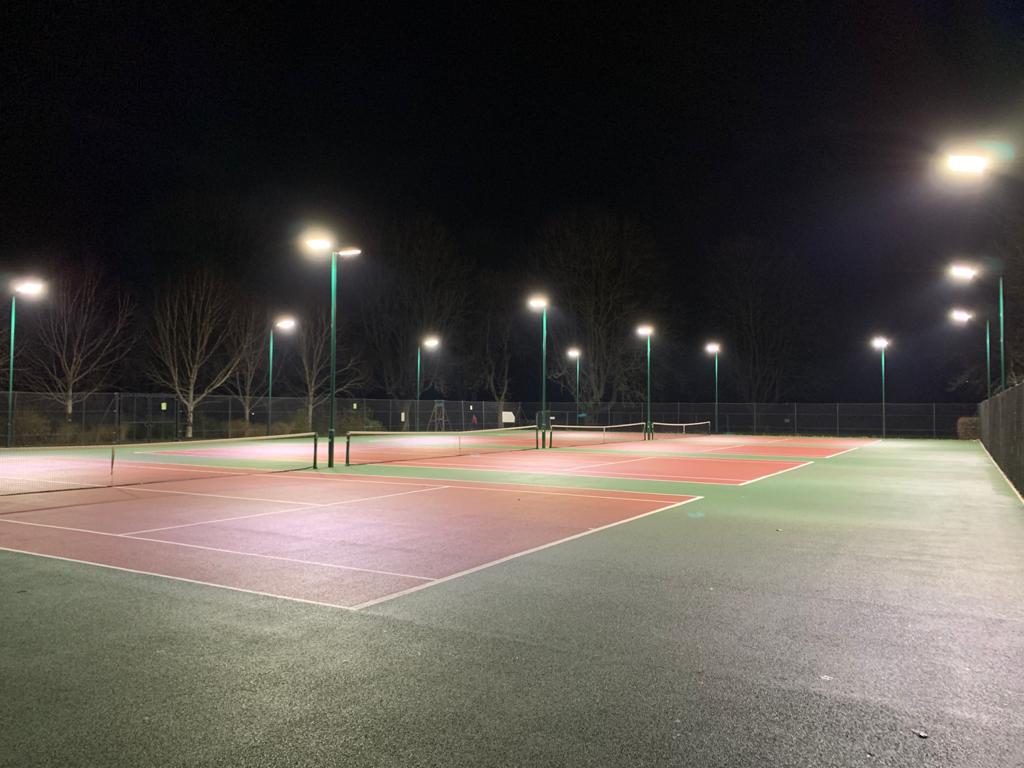 Additional costs to consider
1. Security for gated court
In combination with the fencing accounted for in the cost estimate of a new tennis court, you can add an additional layer of security to your facilities. Consider a digital smart access system that reduces long-term overheads, without sacrificing security. 
2. Booking software
If you choose to construct your own tennis court, it is important to maximise its income generation potential by renting it out. Utilising an online court booking software specifically designed for sport facility bookings can save you a significant amount of time on administrative tasks. Additionally, it makes it easier for players to locate and reserve your courts, leading to an increase in bookings. The higher the number of bookings, the faster you can recover the expenses of your new facility.
More resources for sports facility management
Revenue generation and funding 
Costing
Increasing venue utilisation
Security and safeguarding