---
Booking behaviours and habits
Beavers Community Primary School partnered with Playfinder to maximise the utilisation of facilities during out of school hours. As a result of the partnership, Playfinder managed to average 30 extra bookings a month on their 7-a-side 3G pitch which is after school hours and at weekends.
Managing online bookings with Bookteq also grants venues a listing on the Playfinder app, allowing players to view availability and book on the go.
As a result of this:
28.2% of new bookings at Beavers Lodge are made through the Playfinder app
35% of bookings at Beavers Lodge are made on an ad-hoc (1 booking) basis through Playfinder
---
Payments & breakdown
Before the relationship started the primary school were logging payments manually (cash, POS terminal, bank transfer). As a result of adopting the Bookteq software, Barbara and other staff have enjoyed saving time chasing payments and issuing invoices.
"Playfinder provides detailed breakdowns each month of bookings received and payments made." – Barbara 
Payment breakdown:
31.3% made via Bookteq payment request
56.3% made via payment on Playfinder instant calendar
12.4% of payments logged manually (e.g. cash, POS terminal, bank transfer)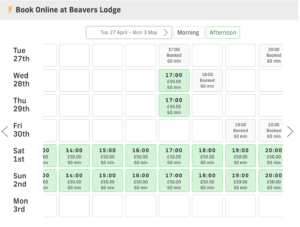 ---
Visibility
Playfinder actively promotes all spaces and facilities via their various marketing touchpoints to ensure maximum visibility for all partner venues.
"Beavers Sports Lodge committee is supportive of continuing with Playfinder as the general bookings have increased over the last two years, with different individuals/clubs utilising the Lodge because of the advertising of the site by Playfinder." – Barbara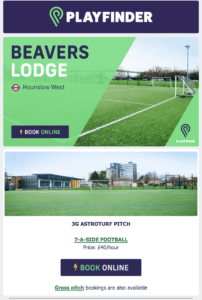 Also, the school's SEO presence improved to rank in the top 3 on Google when searching for relevant terms.
Top 3 rankings:
Play football in Hounslow
Hounslow football pitches
Pitch hire Hounslow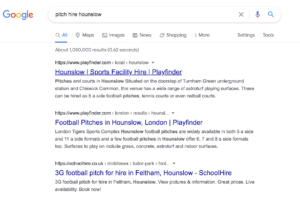 If you'd like to learn more about how we can help your school, set up a meeting with us.