---
Playfinder bookings and revenue
London Tigers Sports Complex uses the Playfinder marketplace to boost exposure of their facilities to local players.
Their utilisation increased by 13.6% in June 2021, just 2 months after their listing went live. Alongside this, revenue generated through Playfinder rose by 16.9% in the same month.
Managing online bookings with Bookteq also grants venues a listing on the Playfinder app, letting players see live availability and book on the go.
As a result of the marketplace:
29.6% of bookings at London Tigers were made through the Playfinder website and app
45.2% of bookings at London Tigers made through Playfinder were from first-time bookers
---
Payments & breakdown
Before Bookteq, London Tigers logged many of their payments manually (cash, POS terminal, bank transfer). Since adopting the software, staff have enjoyed reduced time spent chasing payments and issuing invoices.
Payment breakdown:
10.5% made via Bookteq payment request
61.2% made via payment on Playfinder instant calendar
28.3% of payments logged manually (e.g. cash, POS terminal, bank transfer)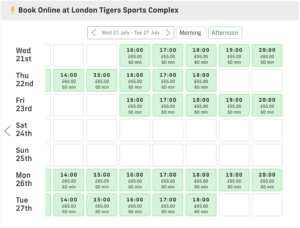 ---
Visibility
Playfinder actively promotes all spaces and facilities via their various marketing touchpoints such as social media and email marketing to ensure maximum visibility for all partner venues.
"[The Playfinder] app has made our lives at Tigers so much easier" – Kiara Pallavii, Marketing Manager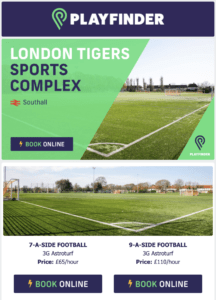 The sports club's SEO presence has also improved, with more search terms ranking in the top 3 on Google.
Examples of top 3 rankings:
Play football in Southall
Ealing cricket nets
5-a-side football in Southall

Learn more about how we can help your sports club with Bookteq. Set up a meeting with us to get started.