Matthew Arnold is a school located in Staines-upon-Thames, Surrey, part of the Bourne Education Trust. As part of Lifestyle Fitness, they have been using Bookteq and Playfinder since March 2021, to manage bookings for a wide range of facilities, including:

3G Caged Pitch (7-a-side)

3G Pitch (11-a-side)

Dance Studio

Grass Pitches (6 pitches)

Hard Court (Netball & Tennis)

Spin Studio

Sports Hall (Cricket, Badminton, Basketball, Futsal & Volleyball)
Results
75% increase in revenue between December '21 – March '22 

15% increase in utilisation during Q1 2022

Grown customer base by 45% in the last 6 months
The Problem
Matthew Arnold needed a more modern approach to managing their facility hire. One that would save their staff precious time on admin and booking enquiries, whilst also increasing utilisation of their facilities. They decided to join Bookteq to upgrade from their previous system and implement a cloud-based, centralised platform which offered total flexibility in the management of their facilities.
The Solution
Getting up and running with Bookteq was quick and simple for the Matthew Arnold team. It enabled them to seamlessly move away from time consuming paper diaries and Excel spreadsheets by encouraging simplicity in their operational approach, as Adam Quinn, Assistant Centre Manager, explains below:
"I would definitely recommend Bookteq, for us simplicity is key and everything is on one programme… obviously paper audits are going out the window now with people moving on, so for us it's simple and user friendly and the best thing we have had here in terms of keeping track of bookings"
They integrated the Bookteq widget within a dedicated bookings page on their website, allowing them to display a live calendar for each of their activities, as well as take bookings and payments from customers online.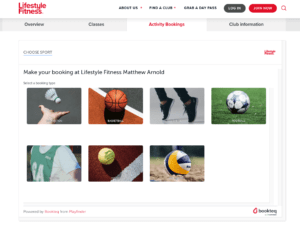 Matthew Arnold School partnered with Bookteq as it integrates with the UK's leading sports marketplace, Playfinder. By listing all of their facilities online, taking advantage of the 100,000+ monthly users that pass through the marketplace, they saw an additional 32% of their total bookings via the platform in 2021.
"Playfinder has been really good for us as well, it helps us do the outreach for our pitch bookings and brings in a lot of customers" – Adam Quinn, Assistant Centre Manager
As a result, Matthew Arnold School has generated 42% of their booking volume through the summer of 2021 via Playfinder.
"It is a great source of advertising, having Playfinder is really good for filling those one off slots" – Tim Gibbons, Centre Manager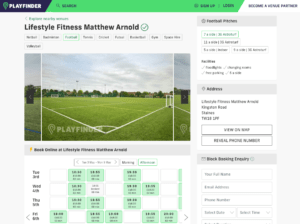 The Results
The increased exposure on Playfinder, coupled with the smoother user experience created by Bookteq saw bookings continue to increase throughout Q1 of 2022. Matthew Arnold School saw a 15% uplift in utilisation of their facilities during this period; with a further 75% more revenue taken between December '21 and March '22. 
As an example of digital transformation increasing access to school facilities, the ease of booking online, alongside the additional marketing provided by Playfinder has been a driving force behind getting more customers through the doors. In the previous six-months, their customer base has grown an incredible 45%, with new users, both local and from further afield, making full use of the fantastic range of facilities on offer. An example 
The staff at Matthew Arnold School have also saved countless hours and taken the hassle out of managing their reservations. Switching to an online booking system has made keeping track of upcoming bookings & classes, as well as managing payments, much easier and significantly reduced the unnecessary admin that plagued their old booking system.
If you'd like to achieve similar results for your school, or to learn more about how we can help you manage your sports facilities, get in touch today via our live chat or email sales@bookteq.com. You can also book a demo with our team.