Playfinder and Pitchero have agreed on a partnership to allow for Pitchero clubs to move to online bookings by integrating with Playfinder's booking system, Bookteq.
Bookteq is an intuitive booking software that helps clubs to manage bookings and customers, and take payments online. Features include:
Dynamic booking calendar
Block booking management
Pricing schemes
Online invoicing
Access to the Playfinder marketplace
How would this look for Pitchero clubs?
Pitchero clubs can integrate with Bookteq on their Pitchero account page under 'Facility Bookings'.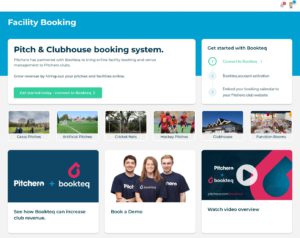 Once the Pitchero Club has integrated with Bookteq's system, they will then be able to host a bookings widget on their club website (see below). As a result, this will allow facilities to be booked instantly online.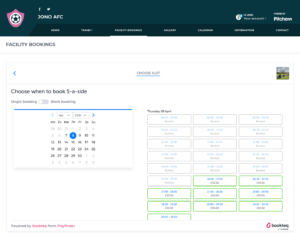 Benefits of Bookteq's software to Pitchero Clubs
Grassroots sports clubs across the country have suffered financially as a result of the COVID pandemic. Therefore sports clubs are looking for new ways to maximise revenue after a hard year. Bookteq by Playfinder has helped many sports clubs improve the utilisation of their facilities and therefore revenue. One of those is Tooting and Mitcham United Football Club in South West London.
Tooting and Mitcham United FC joined Playfinder in 2018 and have since seen utilisation levels rise by 29%. In addition, the club also saw 41% of payments being made online.
Venue Manager, Jackie Watkins, said: "The booking system has provided us with a great tool to manage our bookings and easily sell our available slots – they have found us new customers and increased our pitch utilisation."
You can learn more about Tooting and Mitcham United's experience using Bookteq below:
Playfinder marketplace
Operating with Bookteq will also grant your sports club access to the Playfinder marketplace. Playfinder have the UK's leading marketplace for users looking to book sports facilities, seeing more than 100,000 monthly users on the website and app.
Being listed on Playfinder will unlock your facilities potential by allowing thousands of users to book via the platform
Sign up to Bookteq through the Facility Booking section of your Pitchero account, or enquire through our live chat to find out more.